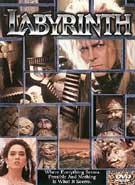 Labyrinth (1986)

Starring: David Bowie, Jennifer Connelly, Toby Froud, Shelley Thompson
Director: Jim Henson
DVD Release Date: 10/12/1999


Journey into the fantastical world of Labyrinth, starring David Bowie and a cast of incredible creatures created by Jim Henson and produced by the Master of Myth George Lucas!
Frustrated with baby-sitting on yet another weekend night, Sarah - a teenager with an active imagination - summons the Goblins from her favorite book, Labyrinth, to take her baby step-brother away. When little Toby actually disappears, Sarah must follow him into the world of the fairy tale to rescue him from the wicked Goblin Kind (Bowie)!

Guarding his castle is The Labyrinth itself - a twisted maze of deception, populated with outrageous characters and unknown dangers. To get through it in time to save Toby, Sarah will have to outwit the King by befriending the very Goblins who protect him, in hopes that their loyalty isn't just another illusion in a place where nothing is as it seems!
Additional Information:
Copyright: 1986, Columbia TriStar Home Video
Special Features: Cast/Crew Bios, Documentaries, Interactive Menus, Scene Access, Theatrical Trailer
Video Format: Widescreen 2.35:1 aspect ratio
Add'l Features: Enhanced for 16x9 TVs
Subtitles: English, Spanish
Audio Tracks: Dolby Digital Surround: English
# Discs: 1
Layers: Dual
Other: Produced by Eric Rattray, George Lucas; Written by Terry Jones; DVD released on 10/12/1999; running time of 102 minutes; Closed Captioned.
Coding: Regionally Coded for Region 1.
I just got this DVD a while ago and I think it is much better than the VHS version. The DVD is clearer in picturr and sound. It also has the "Inside the Labyrinth" on the Special Features, so you get to see behind the scene stuff on the movie. It's SO cool! I can't believe how much time and effort they put in this movie. It's AMAZING!